Spécial Fête des Mères: CAMPISSIMO!
Par Valentine Deluxe
Sur "Campissimo !", on n'a pas le temps pour le
blabla
, on veut de l'action !
Aussi, je n'essaierai même pas de vous résumer notre film du jour, cette histoire de sorcière qui était jolie puis qui ne le fut plus mais qui le redevint quand même par la grâce d'une potion magique fabriquée avec les souliers de Cendrillon, les cheveux de Raiponce, la cape du petit chapon rouge, et la vache de Jack (oui, celui qui escalade des haricots magiques), car cela serait décidément trop complexe pour tenir dans le cadre synthétique -- pour ne pas dire carrément ascétique -- que nous nous sommes imposée dans cette brève rubrique.
(Note de BBJane : Et là, mine de rien, tu viens de battre ton propre record de phrase interminable ! Bravo Valentine !...)
La seule chose que je voudrais dire avant, c'est que...
Jessica Lange ne va pas être contente ; mais alors là, pas contente DU TOUT !!!
Pourquoi ce mouvement d'humeur qui semble si peu dans les habitudes guillerettes et primesautières de la tendre chérie ?
Eh bien, figurez-vous que cette vilaine chouraveuse de
Meryl Streep
, qui rafle tout ce qu'elle touche avec ses longs doigts collants comme de la sécotine, va venir lui ravir la précieuse et convoitée couronne d'Impératrice du Camp Contemporain
*
!
Pour rappel, notre pauvre
Dame Jessica
coiffait le seyant couvre-chef (un prix décerné de façon tout à fait officieuse par notre blog bien aimé) depuis la Fête des Mères 2012, grâce au merveilleusement excessif "
Du Venin dans les veines
".
Une vieille rivalité qui ne va pas s'arranger !
Remarquez, c'est de bonne guerre, et cette rivalité ne date pas d'aujourd'hui.
En 1975 déjà, Jessica avait raflé le rôle alors très convoité de la blonde et fragile Barbie nichée dans la grosse paluche poilue du
KING-KONG
de
Dino De Laurentiis
, quand le délicat nabab s'était écrié "
Qué bruta!
"/"
Quel laideron !
" en voyant Meryl Streep se présenter à l'audition.
En 1982, c'est Streep qui chipera l'oscar de la meilleure actrice (parmi les 897 autres nominations qu'elle compte à ce jour) à Lange qui concourait avec "
Frances
", déjà évoqué
ici-même
pour la Fête des Mères -- comme quoi, y a des coïncidences troublantes...
30 ans plus tard, Jessica, se consolera de son mieux, en délogeant la Streep de la catégorie "
Modern Camp
" où elle créchait depuis un an avec "
Postcard from the Edge
" (et toujours dans le cadre de nos commémorations maternelles !)
Alors, vous pensez bien qu'après ça, quand les deux divas se croisent dans un couloir, il y a comme de la friture sur la ligne !
Mais revenons à nos moutons ! (J'avais promis de faire court : j'ai menti !)
(Note de BBJane : Merci de le préciser ; nous ne l'avions pas remarqué...)
Donc, aujourd'hui, le nouveau record risque de tenir un bon moment, car le film dont il va être question dans un instant -- si je me décide enfin à la boucler -- date d'à peine 6 mois !!!
Et donc, à l'épineuse question :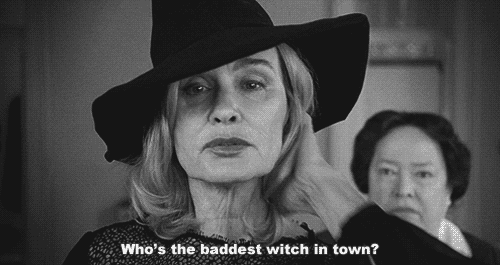 "Qui est la plus vilaine sorcière du coin ?"
la réponse aujourd'hui (n'en déplaise à Lady Jessica), c'est "
l'autre
", "
la vipère
", "
la verrue
", "
la bribeuse
" ("
la voleuse
", comme on dit si pittoresquement dans la mienne principauté de Liège).
Enfin bref : c'est la Meryl !
"
Into the Woods
", la plaisante adaptation du cultissime
musical
(oui, enfin, cultissime pour moi, en tout cas, ce qui n'est déjà pas si mal) du très-Saint
Stephen Sondheim
, passée complétement inaperçue dans nos contrées, renferme, entre autres merveilles, une de ces petites répliques orgasmiques à m'en défriser la moumoute, que l'on croirait déposée là au passage rien que pour nous.
Je ne pouvais donc l'omettre en ce jour béni d'hommage à la sainteté maternelle.
Donc, "Campissimo !", clap, 3ème !
Aujourd'hui :
"Dur-dur d'être une bonne mère."
Mais bon, finalement, Jessica Lange, tout ça, elle s'en fout. Elle, elle danse !...
* Catégorie censée les différencier des momies faisandées, bouffeuses de pissenlits par la racine à tous les repas depuis des lustres, qui font habituellement les gros titres de nos colonnes.